Hiking in Crested Butte, CO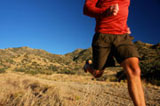 Whether you're looking for a pleasant stroll through a wildflower-filled meadow, an overnight backpacking expedition, or a vigorous ascent to a soaring mountaintop, Crested Butte has the trail for you. This haven for outdoor recreation is nestled in the Rocky Mountains and is home to a diverse selection of wild animals, unique flora, and grand mountain landscapes.
There are many summer trails found right in the Crested Butte Mountain Resort area, however, to find the most trails, head to the western Elk Wilderness where you'll find views of cascading alpine terrain and castle-like rock formations. For a great outdoor experience, plan a day hike and have a picnic in the remote serenity of the wilderness. Whatever you choose, you are sure to take pleasure in the scenic beauty of the natural surroundings.
So lace up your hiking boots and pack plenty of water. No matter which direction you head out in, you are sure to find a great trail with a unique view of this unspoiled mountain refuge.