Biking in Crested Butte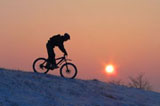 Many expert riders argue that the sport of mountain biking originated in Crested Butte. The debate may not be settled, but with its long history and numerous trails etched through the rolling hills, Crested Butte is undoubtedly a world-class biking destination.
The surrounding hillsides provide commanding views of steep Rocky Mountain cliffs, dense alpine forests, and glittering mountain streams. Such scenic trails are ideal for either a leisurely ride or an intense adrenaline-boosting expedition. If you aren't so confident in your riding ability, you may want to stop into the Crested Butte Mountain Bike School. A three hour lesson will familiarize you with terrain advancements, cornering, drop-offs, and jumps. Before long you'll be charging uphill rises and whizzing down dramatic descents.
Once you've experienced the trails, you'll want to check out the Mountain Bike Hall of Fame to learn all about the sport and see great racers of the past. There's so much to see and do that with one visit, you'll see why Crested Butte is frequented by mountain bikers from all over the world.