Golfing in Crested Butte, CO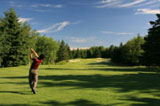 Crested Butte has enough summertime activities to satisfy all tastes, and golfers are no exception. This unique western-Colorado setting offers a striking backdrop for world-class mountain golf. The dramatic descents and rolling green fairways present a challenge for golfers of all handicaps.
As a leading golf destination, players can expect the best of clubhouse amenities and pro shop outfitters where they can stock up on all the newest equipment to get the bail sailing just that much farther. Or, if you would like to brush up on your technique, inquire about a private lesson to achieve that perfect swing.
Golf is an ideal summertime group activity and is fun for players of abilities. Why not sample the outstanding scenery and first-rate mountain golf environment of Crested Butte during your stay? The experience will keep you coming back again and again.